Services
Submitted by Guest Blogger
May 21st, 2013
By Kevin Walsh, senior vice president and managing director, Eligibility and Insurance Exchange Services, Government Healthcare Solutions, Xerox
Imagine if everyone did the bare minimum at work. Firefighters might not save our beloved family pet, or a mechanic might change our oil, but opt not to warn us when our brakes are dangerously close to failing. At Xerox, however, we're committed to going above and beyond for our customers.
For example, we work with the New Jersey Department of Human Services to manage healthcare benefits for NJ FamilyCare, a federal- and state-subsidized health insurance program. We process applications, manage eligibility and enrollment, and operate a customer service center so NJ FamilyCare can help uninsured children get access to affordable healthcare. But we don't stop there.
Xerox has 35 employees in New Jersey who are dedicated to working in the community to educate potential participants about the program and to promote enrollment. These employees operate out of regional offices in New Jersey's busiest counties and at New Jersey County Board of Social Services offices, but they also take a "feet on the street" approach.
In partnership with the state and local organizations, our community outreach employees participate in community health fairs, church events, and even go door-to-door to work with uninsured residents who are likely eligible for the program. Our flexible workforce is available wherever and whenever they are needed, seven days a week. By setting up mobile work stations, they are able to help potential participants complete enrollment applications right then and there, using secure online portals.
Xerox also hosts dental screenings for kids around the country, including in New Brunswick and Somerset, NJ. Through our "Making Smiles Brighter" initiative, we team up with local dental professionals. They volunteer their time to educate children about how to take care of their teeth and to check for cavities and other oral problems. In many cases, these are the first dental check-ups these children, often from low-income homes, have had.
By encouraging enrollment in NJ FamilyCare, we can help ensure that more people in New Jersey get access to quality healthcare, and, through the dental outreach program, we can help children develop healthy habits for a lifetime. Programs like these help us feel proud of the work we're doing, proud to be Xerox.
Submitted by Guest Blogger
May 16th, 2013
By Tim Pearce, European offer manager, Large Enterprise Operations, Xerox Europe
Next week, Aston Business School will be holding a two-day summit to explain the concept of 'servitization' in the UK. Aston and Xerox are also jointly launching a new report that looks at the benefits servitization is having on manufacturers, their customers and the wider implications for the UK economy.
But what is servitization and why are we getting behind it?
Xerox is a company founded on developing print and copy-related devices, after our founder Chester Carlson invented a dry-writing technology to produce multiple copies of the same document. While we remain extremely proud of our heritage, we see the real value being in offering services tightly coupled to the products we produce.
Our initial drive was to help customers gain control over all aspects of their print infrastructure, rather than just offering them the next generation device. The result was the creation of our Managed Print Services.
It began by monitoring and maintaining equipment and grew to the point where today over half our business comes from services, which have become international outsourcing contracts underpinned by our own technology.
This is the essence of servitization; utilising technology to offer services tightly coupled with existing products. The success stories are numerous but Aston's research finds that the concept has failed to permeate the market at large.
In fact less than 30 per cent of UK manufacturers are believed to offer services as well as products, compared to more than 55 per cent in the United States.
One of the challenges we face is the way that 'services' and 'manufacturing' are identified by media reports (on government reporting of GDP) as completely separate strands of the economy. However, by evolving into a business that focuses on offering services to customers as well as the products we sell, we have continued to thrive as a services led, technology driven company.
For manufacturers, servitization can offer increased revenue streams, and builds closer ties with customers that ultimately helps us add the most value to their operations. It is clearly an idea worth exploring.  What are your views on the current state of servitization in the UK?
Submitted by Guest Blogger
May 15th, 2013
By John Lynn, founder, Healthcare Scene
Last week, a number of TEDMED attendees and myself participated in a Google+ Hangout sponsored by Xerox, to take a look back at our unique experiences at TEDMED 2013. The discussion included the following people:
We made it a really focused 15 minute discussion of the key takeaways from TEDMED. Some of the topics we discussed included: healthcare big data, multidisciplinary collaboration, citizen science, patient centered care, and a look at TEDMED topics 5-10 years from now. It was a really great discussion, and I encourage you to watch the TEDMED recap video below.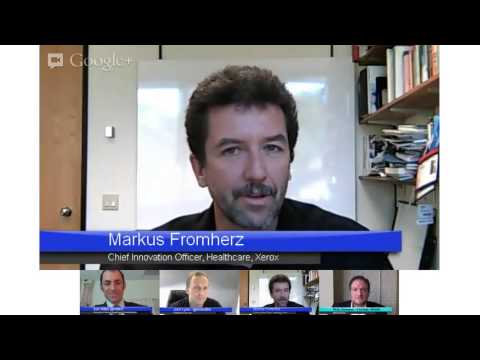 John Lynn is the founder of the nationally renowned blog network Healthcare Scene, which consists of 15 blogs that have been viewed more than 10 million times.  John can be found on Twitter at @techguy and @ehrandhit.
__________________________________________________________________________________________________________
John Lynn filed this content as a paid contributor to Xerox. The content is the author's opinion and does not necessarily reflect the views of Xerox.
Submitted by Guest Blogger
May 14th, 2013
By Anand Das, chief technology officer, Federal Solutions, Xerox
Data is a part of our daily lives. From our work commute and lunch break to our email management, our routines are filled with data. When that data is analyzed it can provide relevant insights about our productivity, time management, stress levels and much more.
In short, analytics give data meaning. And for companies and government bodies alike this meaning can be used to improve performance, identify cost savings and create efficiencies – letting employers and their employees focus on what really matters.
The Federal government – like most businesses today – is interested in leveraging its massive amounts of data and is investing millions of dollars annually on the insights that can be gleaned from it. What makes the analysis difficult for the federal government is the three 'V's: the volume, the velocity with which the data arrives, and the variety of data. In fact, many of the new types of data – blogs, social media, videos and GPS – are unstructured, making it difficult for existing analytics solutions to handle. At Xerox, we are tackling the challenge head on by harnessing this data through predictive analytics and business intelligence.
This week at FOSE 2013 in Washington, D.C., my colleagues and I will help federal decision makers examine the hidden treasure of new insights and opportunities that lie  beneath unstructured and seemingly non-related data. We will also discuss strategies for promoting transparency and improving financial management at federal agencies.
I'm looking forward to engaging with government thought leaders and continuing to understand their challenges. If you'll be in attendance reach out and we'll connect.
Click here for more detailed information about Xerox's FOSE 2013 sessions – "Promoting Transparency and Improving Financial Management Using Predictive Analytics and Social Analytics" and "Provider based Federal HealthCare Practical & Actionable Medical Surveillance – Improving Care Proactively with Analytics."  
Submitted by Guest Blogger
May 13th, 2013
By Erik Newlin, director, National Standards Consulting, Government Healthcare Solutions, Xerox
"Rules are meant to be broken." We've all heard this line, and, while it always seemed like the interesting and fun route to take, it's rarely the right decision – especially in business and in government. Rules are in place for a reason, and when millions of people (and dollars) are on the line, compliance is a must.
In the government healthcare world, this notion could not be truer. Complying with HIPAA Operating Rules, MAGI and ICD-10 may not be fun, but it's also not negotiable. Whether states choose to expand Medicaid or not, they'll have to update their systems in order to comply with the new rules outlined by the Centers for Medicare & Medicaid Systems and the ACA. Failure to comply will hit states hard in their pocketbooks.
ICD-10 may seem especially un-fun. In fact, it's seen by some as being potentially apocalyptic – a highly complicated technology issue that could have devastating effects, and the migration to ICD-10 is getting a lot of industry attention for both its benefits and its challenges. According to a February 2013 survey by the Workgroup for Electronic Data Interchange (WEDI), a private and public industry authority on the use of health IT, provider readiness appears to be the major concern in meeting the 2014 compliance deadline. And, generally, moving to ICD-10 is seen as a highly complicated technology issue.
Xerox, though, estimates that the technology component represents only about 20 percent of a shift to ICD-10. The other 80 percent is about business readiness. Health plans of all kinds – Medicaid and commercial – need to focus on collaborating with providers to open good lines of communication and on ensuring every step of an ICD-10 transition is led by an effective business continuity strategy. Done right, that strategy will drive the technology delivery. And that may include some variation of dual processing for ICD-9 and ICD-10 (a "step up-step down" mechanism or running both systems in parallel) during a set period of time. This would result in significantly lower disruptions to the healthcare market in its entirety, and might offer the single most viable business continuity strategy a health plan could deploy.
It's human nature to resist compliance, but, when it comes to government healthcare, compliance is the right thing to do. The system will run more smoothly, large fines will be avoided, and some sections of the ACA even estimate that compliance will lower the cost of doing business for all providers.
Erik Newlin always tries to do the right thing, including speaking about Medicaid compliance at the 22nd Annual WEDI National Conference in Las Vegas, 13 – 16 May.
Submitted by Guest Blogger
May 10th, 2013
By Conrad Mills, services line marketing manager, Large Enterprise Operations, Xerox Europe
A few days ago I was pondering the top 10 business priorities for CIOs, as revealed by Gartner's recent CIO Agenda survey. Specifically, I was thinking about what this annual survey confirms to me about cost control.
For years, the Gartner survey has consistently revealed cost as a top-three CIO priority, but never at number one. It seems obvious to me that this is because reducing costs simply isn't an end in itself. Its importance lies in enabling other things: creating efficiencies and freeing resources for transformation and growth.
The use of technology and information in business is changing so fast, the pressure's really on for IT departments to respond effectively. To do so, though, they may need to first root out unnecessary cost wherever it lurks.
Often it lurks in unconsidered places. Cost reduction has always been a major driver for managed print services (MPS), but the focus tends to be on the obvious costs: hardware, maintenance and supplies. However, as this paper from IDC points out, these account for only a fraction of the total cost of printing.
There are five areas of cost not always perceived as print-related, that really are. They're larger than the obvious costs and offer significant scope for savings through MPS:
Organisational productivity
Procurement and administration
Environmental sustainability
IT service desk
Storage and office space
The IDC research shows that when you look beyond the obvious, the total cost of printing is typically one to three percent of revenue, with potential for up to 30 percent cost reduction. This is in line with our experience, too, working with organisations of all types and sizes to eliminate sources of unnecessary print-related cost. Here's just one example, where we delivered savings of 30 percent that equate to over $7 million annually.
I heartily recommend that you download and read the IDC paper, which discusses all the areas for cost reduction, includes more case study results, and highlights some basic criteria to consider in assessing potential MPS partners.
Submitted by Guest Blogger
May 9th, 2013
By Tim Baines, Professor of Operations Strategy, Aston Business School, UK
We've all seen the news; UK manufacturing faces many challenges. Recently published statistics suggest stagnation in the growth of manufacturing, yet the government sees it as a cornerstone of a balanced economy, and Margaret Thatcher's recent death has only increased debate around the value of manufacturing in this country.
Last week's GDP figures reveal that it's a different story for the services sector, which powers more than three-quarters of the economy. It grew by 0.6 per cent in the first quarter of 2013, with output now at about its 2008 pre-recession levels for the first time.
Intriguingly, some businesses in the manufacturing sector are using services to boost their resilience and growth, getting closer to their customers and securing longer-term contracts.  The blurring of the lines between manufacturing and services may not be immediately apparent, but they are already coming together in a way that is re-shaping the future of UK industry. It's a process known as Servitization.
Servitization is the concept of manufacturers offering services to enhance value creation from use of their products. These services exploit a manufacturer's intellectual property arising from the manufacturer's technology innovation capabilities.
This represents a huge shift in our perception of manufacturing and services, viewing them as an integrated whole, rather than separate concepts. This services-led business model offers companies a way to compete and deliver growth. Yet outside of the few leaders in this field, Servitization has yet to be adopted by the economy at large.
Later this month Aston Business School is hosting a two day summit offering the opportunity to learn about the shape and adoption of Servitization in the UK from those that are already leading the way. Stay tuned for the outcomes of this event and the continued deployment of this new model across the UK.
What is your experience? Are you seeing a shift in your industry, or is the first you've heard of Servitization? Leave your thoughts in the comments and follow the conversation on Twitter at #Servitization
__________________________________________________________________________________________________________
Professor Tim Baines filed this content as a guest contributor to Xerox. The content is the author's opinion and does not necessarily reflect the views of Xerox.