Office Printing
Submitted by kenericson
August 7th, 2013
Posted on Aug. 22, 10:00amET
Editor's Note: The first wave of software patches is now available. Please read our latest blog post for more details.
Posted on Aug. 19, 2:50pm ET
Patch for Scanning Issues Available Shortly
By Rick Dastin, corporate vice president and president, Office and Solutions Business Group
Our technology team has been working very hard to make the software patch available that addresses character substitution that can occur when "stress documents" are scanned on some Xerox office devices.
To confirm the patch effectiveness, we reached out to computer scientist David Kriesel, who first brought the issue to our attention. David has provided invaluable insight, and his willingness to collaborate and conduct additional tests has been extremely helpful.  We were pleased to hear back from David that the test patch we provided solves the problem and he no longer sees the substitution of characters on the document.
We're finalizing our testing on the patch and availability will start this week, at which time we will announce and post a link on this blog site.
Posted on Aug. 15, 7:30 pm ET
Update from Rick Dastin, corporate vice president and president, Office and Solutions Business Group: We're working hard to deliver a timely patch and we're pleased with the testing results.  Stay tuned for an announcement shortly on availability.
Posted on Aug. 13, 1:45 pm ET
Editor's Note: An updated Important Questions and Answers  document is now available.
Here is A Guide to Check And Reset Defaults 
Posted on Aug. 11, 6:00 pm ET 
Update On Scanning Issue: Work Continues on Software Patch To Solve Character Substitution
By Rick Dastin, corporate vice president and president, Office and Solutions Business Group, Xerox
After further testing of the scanning function we've now determined the unit's "Quality/file size" factory default and highest modes don't completely alleviate the problem of substituting characters on stress documents. This comes as a result of ongoing communication with David Kriesel who alerted us to still seeing character substitution in the factory default mode. This is consistent with what David has been reporting, and we thank him for his findings. The default and highest modes do substantially reduce the likelihood of character substitution but due to a software bug character substitution is not completely eliminated. We apologize for any confusion that came from our prior communications.
We continue to work tirelessly and diligently to develop a software patch to address the problem. We'll pass along information about the timing of the patch as soon as we have it.
We want to reiterate, we believe the issue deals with "stress documents," which include documents with small fonts, those scanned multiple times and hard to read. Regardless of the document condition we are committed to address any problem even if it is something our customers may never encounter.
We'll continue to actively listen to our customers and the industry as a whole. We take your comments, questions and concerns seriously and appreciate your feedback.
Please continue to engage with us – you can do so with our principal engineer at francis.a.tse@xerox.com.
Impacted Office Product Families
ColorQube: 87XX, 89XX, 92XX, 93XX
WorkCentre: 5030, 5050, 51XX, 56XX, 57XX, 58XX, 6400, 7220, 7225, 75XX, 76XX, 77XX, 78XX
WorkCentrePro: 2XX
BookMark: 40, 55
Note: If your office device does not appear on this list, it is not impacted by this scanning issue.
Posted on Aug 9, 7:20 pm ET
Update on Scanning Issue: Working with David Kriesel on Solution 
By Rick Dastin, corporate vice president and president, Office and Solutions Business Group, Xerox
We continue to test various scanning scenarios on our office devices, to ensure we fully understand the breadth of this issue.  We're encouraged by the progress our patch development team is making and will keep you updated on our progress here at the Real Business at Xerox blog.
We've been working closely with David Kriesel, the researcher who originally uncovered the scenario, and thank him for his input which we are continuing to investigate.  As we've discussed with David, the issue is amplified by "stress documents,"  which have small fonts, low resolution, low quality and are hard to read.  While these are not typical for most scan jobs ultimately, our actions will always be driven by what's right for our customers.
We will continue to actively listen to our customers and the industry as a whole. We take your comments, questions, and concerns seriously and appreciate your feedback. As you've seen, we've replied to many of you through blog comments and tweets, and while we can't respond to everyone individually, please be assured we are listening and taking feedback under immediate advisement. Please continue to engage with us – you can do so with our principal engineer at francis.a.tse@xerox.com.
Editor's Update: Here are links to reference material on this issue:
Important Questions and Answers 
A Guide to Check And Reset Defaults 
Below posted on Aug. 7:
Translations to this post in: French, Italian, Dutch, German, Romanian, Spanish, Portuguese, Danish, Hungarian,                    Latin Spanish, Finnish
By Rick Dastin, corporate vice president and president, Office and Solutions Business Group, Xerox
There have been reports regarding errors with the scanning function of some of our office devices in which characters can potentially be substituted for others.  This does not impact standard printing, copying and traditional fax functions.  In fact, the vast majority of our customers will not experience any issues.
Here are the two solutions:
Reset Scanning Defaults:  Xerox is providing a guide demonstrating how to check the current device scan settings and how to return them to factory default.
Apply a Software Patch:  Xerox is developing a software patch that can be remotely downloaded to each device.  The software patch will disable the highest compression mode thus completely eliminating the possibility for character substitution.  Xerox will begin rolling out the patch within a few weeks.
With this in mind, let me step back and clarify the issue itself.  It is important to know that Xerox devices shipped from the factory are set with the right compression level and resolution settings to produce scanned files appropriate for viewing or printing—while maintaining a reasonable file size.  You will not see a character substitution issue when scanning with the factory default settings.
To hear and see this frustration and confusion goes against all that's core to Xerox's heritage and future. We apologize for any confusion and inconvenience this has caused our customers.  We are working tirelessly to address these issues—working closely with our partners and customer service teams across the globe to both proactively inform customers as well as help them solve the issue.
Editor's Note: If you are a member of the press or industry analyst community please contact Bob Wagner at robert.wagner@xerox.com.
Submitted by Guest Blogger
July 23rd, 2013
By Alan Clark, manager, Product Marketing, Xerox Europe
Remember the old days when you had to go to shops and showrooms to browse before you bought something? Remember how you usually visited a newsstand in order to purchase the buyers' guide for that new car or washing machine? Well, now, thanks to the internet, and mobile devices, such activities are no longer essential; you can compare and contrast different products from your armchair, garden or bath!
Before I purchase a new book, I like to look at reviews on sites like Amazon.com. Simply put, I care about what other people think about the products I'm interested in – both ordinary consumers like me and the professional reviewers. According to the Corporate Executive Board Marketing Leadership Council, consumers complete 57 percent of their purchase decision-making process prior to engaging a supplier sales representative. Translation – digitally savvy consumers are educating themselves on products through ratings and reviews, online ads, articles and more and are forming opinions before ever contacting a sales person or setting foot in a showroom.
At Xerox, we know our customers are interested in reviews of our products too. That's why we have our own ratings and reviews programme, so our customers can hear from their peers and industry professionals about the products they're interested in. Every Xerox product that's been reviewed includes a ratings and reviews tab on Xerox.com with insights from everyday users and professional testers. Here are just a few examples of some recent professional reviews:
BLI Pick Award              Xerox WorkCentre 7855, Outstanding 51 to 60 ppm A3 Colour MFP
BLI Pick Award              Xerox Phaser 7100, Outstanding Achievement in Energy Efficiency
EDP Award                   Xerox D95/D110/D125 copier/printer, Best Multifunctional Printer
PC Magazine, Greece    Xerox Phaser 6600, Editor's Choice
Digitalic, Italy                Xerox Phaser 7100, Rated 5 out of 5
Trusted Reviews, UK     Xerox Phaser 3320, Rated 9 out of 10
Tell us, what ratings and reviews do you rely on to ensure you're buying the best?
Submitted by Guest Blogger
June 12th, 2013
By Rick Dastin, president, Office and Solutions Business Group, Xerox
Any device connected to the Internet – an iPad, a computer, even an MRI machine – has the potential for a security vulnerability. That's because these devices all have operating systems and hackers can possibly get inside and cause damage to the device or the surrounding network environment. Businesses are well aware of this with PCs, servers and computer networks, but not necessarily with devices with embedded firmware such as printers and mobile technologies. Yet, as all of us use more mobile technology, information access points and the resultant vulnerability may increase.
Some business leaders acknowledge this challenge and deal with it appropriately. It worries me though, after talking with CIOs across the country, how some are not fully aware of the vulnerabilities and view some mobile security elements as optional. They think it's going to be difficult or expensive and seem to worry more about the difficulties than about the cost of a security breach. How can they feel that way when information is the most sacred thing in business?
Maybe it's because in the past, companies had separate network and security management systems and organizations that manage them. It was swivel-chair management, turning from one console to the next, or worse, one organization to the next because the integrated tools were not available to manage both the network and security together. Security doesn't get more inefficient or painful than that.
For CIOs to embrace mobile and embedded device security to the level that is required, I agree that solutions have to be convenient and integrated. We have to provide device safeguards and keep information secure as it moves between systems. This next-generation thinking is what drove partnerships with McAfee and Cisco on a new platform we call ConnectKey.  This video explains more about how it works:
Read more from Rick Dastin in the latest edition of Chief Optimist Magazine – Security by clicking here.
Submitted by Guest Blogger
February 13th, 2013
By Carol Zierhoffer, chief information officer, Xerox
CIOs today aren't just grappling with how to make the latest technology work. They're looking to change business outcomes. To transform and simplify business processes using technology that removes unnecessary steps, improves workflows, and delivers better experiences.
Advancements in technology will continue to evolve as we enable knowledge workers to be more productive in this interconnected, mobile world we live in.  But with those advances comes an unintended by-product – complexity.  Part of my focus as a CIO, as well as our overall strategy at Xerox, is to simplify that complexity.
Today's launch of ConnectKey is a great example of how Xerox can help tame that complexity and simplify the way work gets done.
Sixteen Xerox MFPs are now ConnectKey-enabled so users can scan and upload documents to cloud-based repositories, print securely and easily from any mobile device, and send business-critical documents directly into a workflow process. These features simplify how work gets done by bringing information to the workers' fingertips – whether they sit in the enterprise or are part of a mobile workforce.
We're helping IT departments large and small meet the workforce expectation that technology should do more. ConnectKey MFPs are easier to use, easier to install, and easier to support.   IT professionals can manage ConnectKey MFPs as a central part of the IT network, providing technical support as they do for desktops – via remote management – and protected by embedded security.
Our key differentiator is security – a major concern for CIOs everywhere.  ConnectKey-enabled MFPs are protected with McAfee's "whitelisting" that stops malware before it penetrates the operating system. This is an industry-first.  We also added an extra layer of security with Cisco's TrustSec, which protects data paths to and from the devices. Now MFPs are trusted citizens on the network.
Standardization is key to driving efficiency so CIOs can make room for innovation.  ConnectKey's software ecosystem and technology make that possible.
Submitted by Guest Blogger
December 19th, 2011
By Patti Quinn, Xerox Public Relations 
It's not too often you hear about a Xerox printing device making someone's Christmas wish come true. But that's what happened recently in Grand Rapids.  
The Xerox iGen4 Press was used to print the journal of Anthony Torrone – a man who has endured many difficult experiences throughout his life. He wrote his own prayers, by hand, in a journal as a way to keep a positive attitude during the darkest moments of his life. Year after year, Anthony's only Christmas wish was to have his journal published, as chronicled in this news article.   
A number of people came together to make Anthony's wish a reality – and just a few weeks ago his journal came off the Xerox iGen4 press – check out the video below. 
But there's more to the story. Anthony's neighborhood raised money to cover the cost of the first printing, local businesses agreed to sell his book and an independent bookstore hosted a book signing and made his book available – at no cost to Anthony.
The printers, Freeze Frame Publishing and Color House Graphics, are set to print a third run – 300 soft-cover copies – bringing the total number of books printed to date to more than 1,000. The demand has far surpassed anything anyone involved with this project could have ever imagined.
Technology can change lives and it's heartwarming to know Xerox's equipment was used to make Anthony's simple wish come true; and that so many people came together to make it happen.
Pay it forward.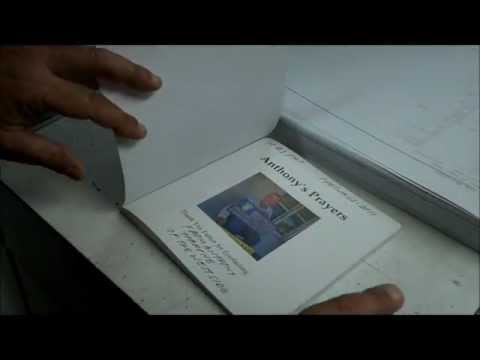 Submitted by Guest Blogger
November 7th, 2011
By Shell Haffner
Manager, Desktop Product Marketing
Xerox Corporation
With the influx of laptops, smart phones, tablets, and whatever the next consumer device may be, more and more conversations crop up about the future and relevance of print. Are eReaders killing the hard copy book? Are hand-written notes a thing of the past? Has the growing number of digital options killed print all together?
Now granted I work at Xerox – a company with a history in putting ink on paper – but I believe that print isn't going anywhere. It may not have the monopoly on consumers' attention it once enjoyed, but I believe its relevancy may be even more powerful today. My sentiment is echoed by a specialized group of taste makers – the graphic designers, marketing communication firms and creative agencies that shape much of how companies market to us.
And guess what? Despite the virtually limitless number of digital options to which designers now have access – from websites and apps to social media vehicles – creatives say they will continue to lean on print as an important way to tell a compelling visual story.
According to Gordon Kaye, who has followed the graphic design community for more than 20 years, print provides a tangible, targeted, emotional connection.
Further research commissioned by Xerox reveals that consumers are more receptive to print communication than digital and mobile combined – by more than double. More than one quarter of respondents (27 percent) said that print is the best way for companies to reach them, whereas only 13 percent said the same for online and just 2 percent for mobile.
What communications vehicles do you prefer – and for what? How do you use print in your daily life?
Submitted by bobwagner
June 22nd, 2011
Director of Worldwide Corporate Industry Analyst Relations
What draws 60 of Xerox's top analysts to Rochester, NY in June?  Could it be the renowned Xerox Rochester International Jazz Festival was striking up a tune?
Or, could it be the opportunity to hear about Xerox's document technology business directly from senior executives?
The answer is both! Last week, Xerox hosted analysts from around the globe in upstate New York.  The day-and-a-half briefing kicked off in Xerox's hometown of Rochester with an address from Xerox CEO Ursula Burns and a concert at the Xerox Rochester International Jazz Festival.  The Gil Hatch Center for Customer Innovation took center stage the following day as Xerox executives from our Graphic Communication, Enterprise, and Indirect Channels business groups hosted tours, product demonstrations, and panel discussions to demonstrate Xerox's leadership in document technology.
Though Xerox is transforming, our continued commitment to document technology rang loud and clear throughout the briefing.  As Burns put it during her opening address, "We must continue investing in the technology marketplace."  Xerox Chief Technology Officer Sophie Vandebroek further reminded the analysts, "Inventing is at the core of what we do at Xerox."
As one analyst summarized in an event wrap-up report, "Xerox provided a good indication that they were still committed to technology as it also grows its solutions and services business."
The analysts walked away informed, and the Xerox team walked away excited having been able to share our vision with these key industry influencers.